Fai volare lo stile
Una cascata di piume leggere
Quando indosso un abito o un accessorio arricchito da un dettaglio fatto di piume il mio stile vola, proiettandomi in una dimensione diversa, priva di peso e quasi sospesa in aria. Impalpabili e colorate, le piume della collana che ho trovato nel cassetto mi hanno fatto venire subito voglia di leggerezza. Questa creazione realizzata da Nicoletta Bersani Gioielli è impreziosita da sfere lucide e da piccoli strass. Mi piace indossarla con magliette di cotone e jeans per dare un tocco originale al mio stile.
---
When I wear a dress or an accessory enriched with a detail made of feathers, my style fly, throwing me into a different dimension, weightless and nearly suspended in the air. Impalpable and colorful, feathers of the neckless that I found in a drawer made me come immediately desire to lightness.This creation made by Nicoletta Bersani Gioielli is embellished with shiny balls and small rhinestones. I like to wear it with cotton shirts and jeans to give an original touch to my style.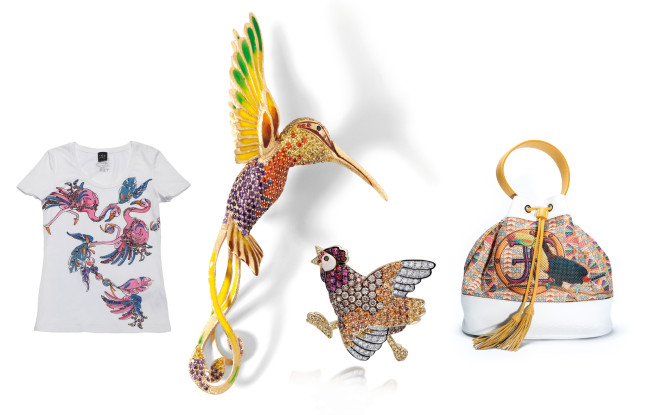 Oltre alla collana fatta di piume, ci sono tanti pennuti che mettono le ali allo stile. Come i fenicotteri rosa, dal corpo sinuoso e slanciato e dai movimenti lenti, che giocano sulla maglietta di Caractère. Oppure il colibrì solitario e velocissimo, e capace di muovere le ali in tutte le direzioni, che dà forma alla spilla placcata oro con zirconi e smalti di Misis. Preziosissima e spiritosa la simpatica gallina di Pino Manna, realizzata in oro e diamanti colorati: un ciondolo un po' kitch, è vero, ma che proprio per questo lo uso come elemento che dà carattere ai miei abiti neri ed eleganti. E' perfetta per i miei fine settimana in giro per l'Italia, invece, il secchiello di Fabi su cui spicca di un bellissimo tucano.
---
In addition to the necklace made of feathers, there are so many birds that put wings to style. As the pink flamingos, with sinuous bodies and slender and slow movements, which plays on the shirt of Caractère. Or the hummingbirds, loner and very fast, and able to move his wings in all directions, which gives shape to the gold plated brooch with Zircons and enamels of Misis. Precious and funny the nice hen by Pino Manna, made of gold and colored diamonds: a pendant a little kitsch, it's true, but that is precisely why I use it as an element that gives character to my black and elegant dresses. It's perfect for my weekend around Italy, instead, the bucket by Fabi on which stands a beautiful toucan.