A mio cugino piace l'arte
Pintoricchio, La Pala dell'Assunta di San Gimignano e gli anni senesi
San Gimignano, Palazzo Comunale, Pinacoteca – dal 6 settembre 2014 al 6 gennaio 2015

Straordinaria è la capacità di Pintoricchio di rappresentare la natura. In questa opera, numerose sono le essenze che animano il paesaggio e tutte sono caratterizzate da particolari naturalistici ben descritti. Inoltre, di effetto miniaturistico appare la quinta rocciosa sul lato destro della composizione. Nel contempo, il dipinto è caratterizzato da una certa rigidità compositiva, i cui riflessi iconografici riportano al Perugino. Tuttavia, sono presenti le tipiche preziosità cromatiche che caratterizzano la tavolozza di Bernardino. Bellissimi appaiono infatti gli angioletti della mandorla e i paramenti di S. Gregorio e i volti delle figure. Questo rappresenta un raffinato gusto per l'antichità classica.
Extraordinary is the ability of Pintoricchio to represent nature. In this work, there are many essences that enliven the landscape and all are characterized by naturalistic details well described. In addition, of miniature effect appears the fifth rock on the right side of the composition. At the same time, the painting is characterized by a certain stiffness of composition, whose iconographic reflections bring back to Perugino. However, there are the typical preciousness that characterize the chromatic palette of Bernardino. Beautiful appear the angels of the almond and the vestments of St. Gregory and the faces of the figures. This represents a refined taste for classical antiquity.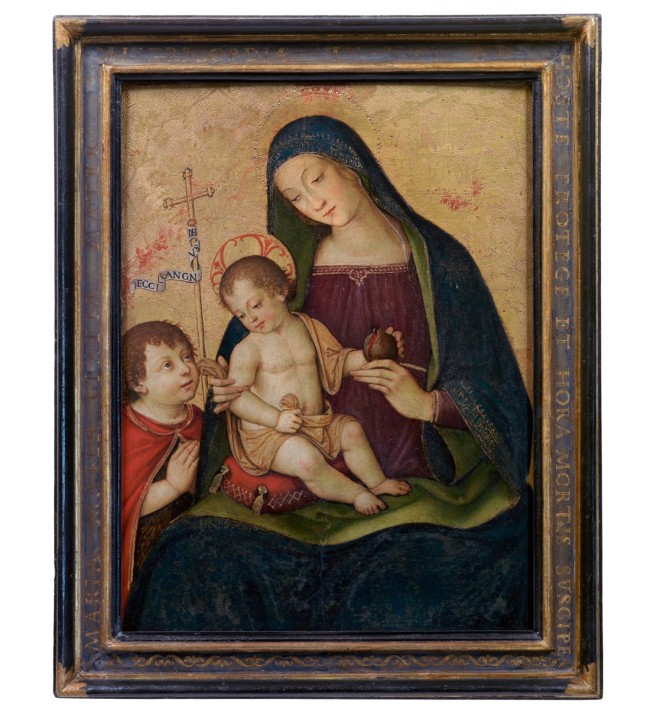 La familiarità che unisce le figure attribuisce al gruppo un tono intimo e raccolto, sublimato dall'oro dello sfondo, che conferisce preziosità al dipinto. Contemplativo, ma umano, lo sguardo di Giovanni rivolto al Redentore, anch'egli consapevole del proprio destino, simboleggiato dal purpureo frutto. Armonico appare il contrasto cromatico tra i rossi e il verde del manto della Vergine.
The familiarity that unites the figures gives the group a cozy and intimate tone, exalted by background gold, which gives preciousness to the painting. Contemplative, but human, Giovanni's gaze to the Redeemer, aware of his fate, symbolized by the purple fruit. Harmonic appears chromatic contrast between the red and the green of the Virgin's mantle.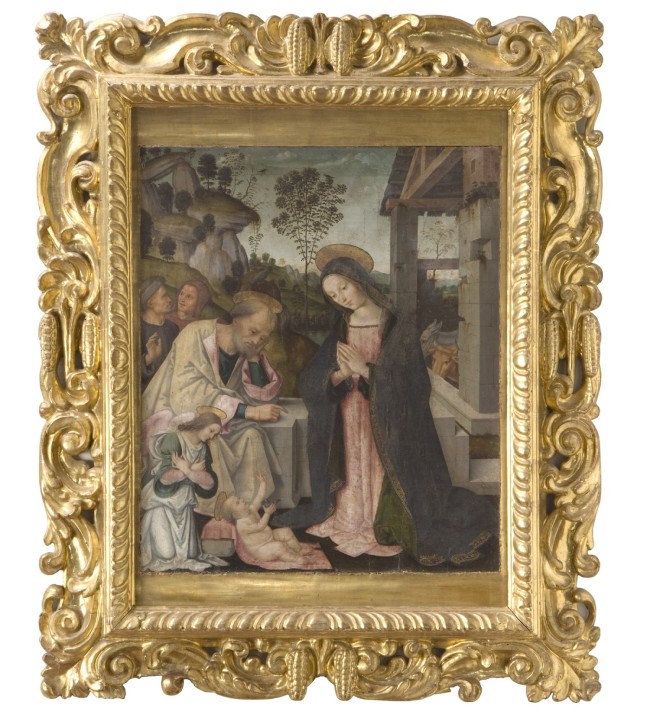 Anche in questo caso, la lezione di Pintoricchio si percepisce soprattutto nella preziosità del paesaggio, ricco di particolari descrittivi. Il taglio della capanna e del piano d'appoggio conferiscono modernità rinascimentale alla composizione, tutta giocata sulla solidità strutturale dei presenti. Interessante appare infine lo slancio del Bambino, che nettamente contrasta con la convenzionale immobilità delle figure che lo circondano.